From working in our living rooms, to Zoom happy hours with students and colleagues being the new normal, to wearing masks in public—one lesson that 2020 has taught us is flexibility thanks to COVID-19.
As large, in-person gatherings look unlikely for the foreseeable future, Osiris Educational have risen to the flexibility challenge and developed an online World Education Summit which will run 22-25 March 2021. This new and exciting digital experience will have 100+ national and international speakers and trainers delivering a mixture of live, semi-live and pre-recorded content.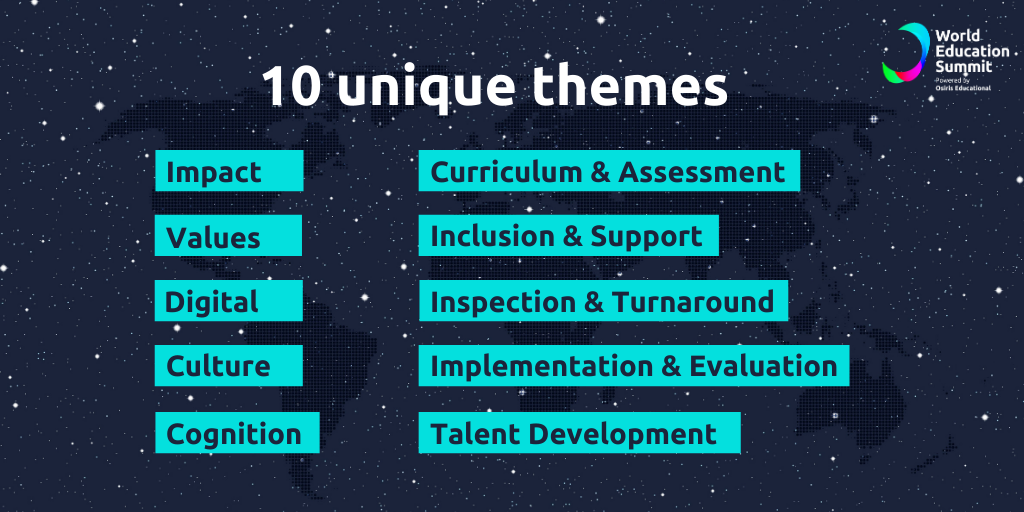 Going virtual doesn't mean the summit will be less interactive!
The Osiris summit development team knew this online event needed to go beyond simply broadcasting content sessions and are committed to delivering a world-class event experience that is as seamless, compelling and engaging as ever.
Expect a week-long series of live online sessions from heavy-weight headliners from the world of education and interact with them from the comfort of your home or work. The summit will bring attendees together no matter where they are physically.
"Attendees will gain the same insight, inspiration and learning as they do from our in-person conferences but from the comfort of their own homes or workspaces. The agenda has been reimagined for the digital landscape, our speaker line-up is amazing, and the event will more global than ever before."
Stephen Cox, CEO, Osiris Educational
How will the summit be delivered?
As well as the session types you'd expect from a world-class summit (think keynotes, workshops, case studies), there are some fresh options that will make you feel you're in the room with everyone!
Live Debates – Speakers go head to head and will debate live on a specific topic. Your opinion matters so don't be afraid to weigh in!
Ask Me Anything – Bring questions and ask the speaker! Open dialogue is encouraged.
Living Books – So many books, so little time? Hear from authors of the moment as they share the most practical tips and tricks from their books.
The Moment When… – Speakers share their stories of gratitude about those who have influenced their lives and careers for the better.
All sessions will be recorded and available to replay for up to a year after the summit. This allows for people to digest the content at their own pace instead of keeping up with the whirlwind that is the usual conference.
With a variety of session times between 10am-6pm GMT —the summit development team is working to make sure that their international attendees have a variety of session options.
What can I expect from the summit?
This one summit, in one week, will have enough content to be your CPD for the ENTIRE YEAR! No matter what age you teach, whether you are an NQT or have been a Headteacher for longer than you can remember, there is a pathway for you.
To make it easy to find what you are looking for, we've organised the agenda into stages (think Glastonbury but without the music or mud)! There are also 10 themes that run through the summit so if you're wanting to brush-up in a certain area, just filter by theme when selecting the sessions you'd like to attend.
2020 might not have gone quite as we all expected but we look forward to 2021 and delivering empowering CPD through a new, online, immersive experience.
For more information about the World Education Summit, please visit: https://www.worldedsummit.com/.