1. A world-famous line-up
The names we've already mentioned don't even begin to cover the depth of quality and authority speaking at the World Education Summit. An unmissable collective of over 200 of the most globally celebrated educational researchers and practitioners will gather for the first time for 4 days of inspirational content at our festival of learning.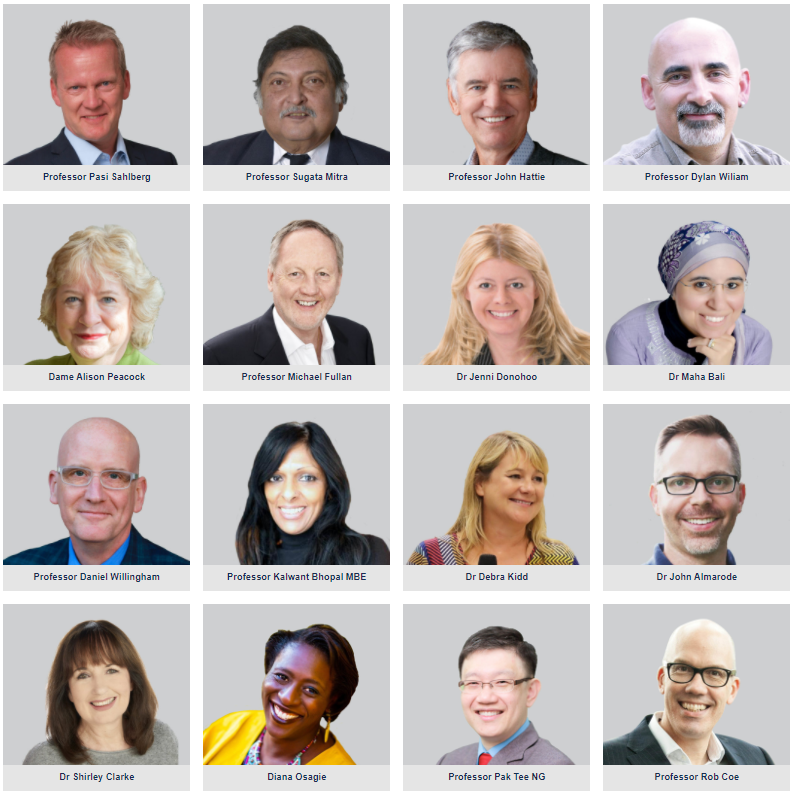 2. 1 year of professional development
We take post-event support seriously. How else are you going to embed the latest learning innovations in your own practice? As an attendee, you will have access to our cutting-edge, custom-built online learning platform. With the Summit content recorded and hosted online, we're giving you on-demand, and unlimited exploration for 365 days after the education conference itself.
3. Extremely cost-effective
This full year of content access makes the World Education Summit an amazingly cost-effective solution to professional development for you and your school. Can't make it on the day of the event? Put off by the cost of organising cover for attending teachers? Your ticket means you can attend whenever it benefits you the most.
On top of this, we've created an incredibly cost-effective multi-delegate ticket package. The more people that attend from your school, the more cost-effective it becomes, and the more unified your learning will be:
Individual Tickets – £300 + VAT
Up to 10 Delegates – £750 + VAT
11-30 Delegates – £1000 + VAT
31 to 150 delegates – £1500 + VAT
Over 150 delegates – £2000 + VAT
A £10 ticket for a year's worth of professional development on demand. Level up your entire school staff with world-class pedagogy for only £1500.
For a full breakdown of prices, multi-school options and terms and conditions, click here:
4. Portable and on demand
We don't have to go into the details of what's happened in 2020. You know the story. You know the words. It's happened to all of us. With the sudden full-scale advent of digital learning (one of the top themes at the World Education Summit), we've pulled out all the stops to make sure that no matter where you are in the world, all you need to do to attend the event is have:
A wifi-enabled device
A ticket and a link
A comfy seat.
With multiple stages taking place simultaneously over several time zones around the globe, there's truly something on for everyone.
5. Be there
Do you ever look at those photos of Woodstock, or Glastonbury? The legendary sets, the revolutionary new avenues of thought and culture. History in the making, immortalised forever by those who were there.
This is that moment in education. Never before has an event of this scale been undertaken in our schools and colleges and never has it been more crucial to the world of learning. Top-class educationalists from learning cultures around the world are all focused on one unified objective: Put learning back at the centre of education.
With over 15,000 registrants and over 100,000 still to come, this is history in the making. And that makes it unmissable.
With pathways for leaders, teachers and assistants of every background and experience level, there is truly something for everyone. Reserve your spot now, before tickets run out.
Find out more here https://www.worldedsummit.com/