Problem:
Ofsted Results: Requires improvement
Solution:
12 Week Osiris Teaching Intervention
Cohorts completed: 1
Teachers: 5
Impact:
"Teaching is good and has improved significantly".
Ofsted results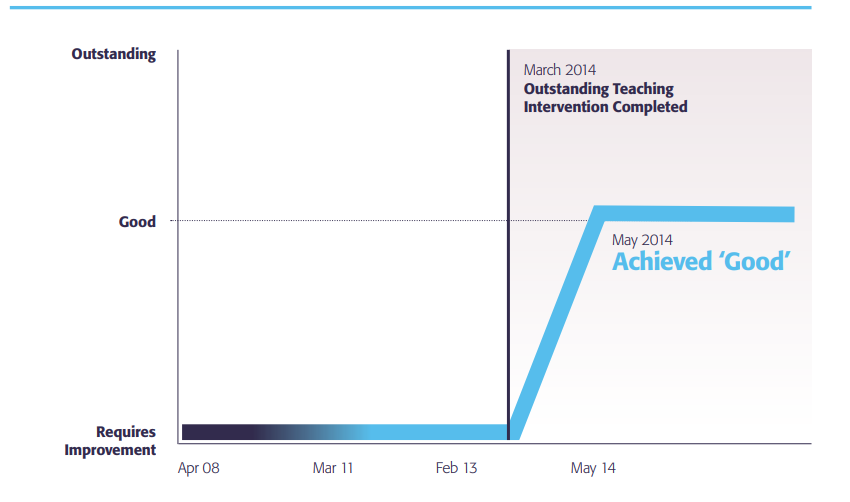 Overview
Improvement Required
Bader Primary School took the decision to complete the OTI programme in September 2013 following a 'Requires Improvement' judgement from Ofsted earlier in the year.
Following a period of reviews and extensive training, the first cohort of 5 teachers completed their OTI in March 2014.
The Outcome
In May 2014 Ofsted returned. The result was a resounding success for the trainers and teachers involved, with the school being upgraded to a 'Good' rating.
The inspectors commented that:
"Pupils' achievement is good. From below average starting points, pupils in Year 6 reach standards that are above average in writing and mathematics and average in reading."
"Teaching is typically good and some is outstanding."
"The school's own records and other evidence gathered during the inspection show that good or better teaching is now the norm in all key stages."
"The marking of pupils' work and the feedback given to them about how to improve their work are of a high order, and pupils routinely respond appropriately to suggestions for improvement".
"Where improvements are needed, teachers are able to improve their skills through effective professional development".
To find out more about Osiris Teaching Intervention, please contact 01790 755 783 or email oti@osiriseducational.co.uk.